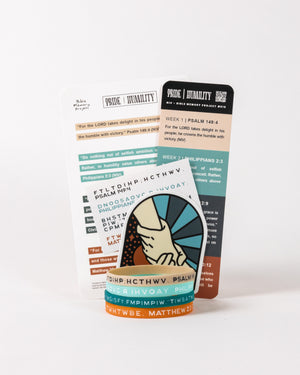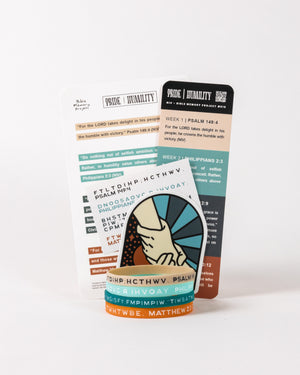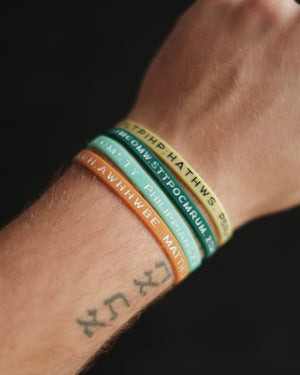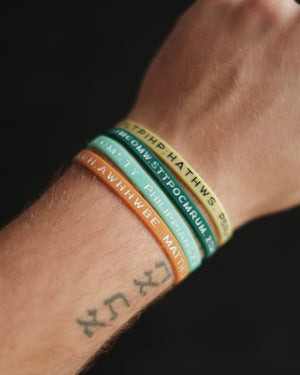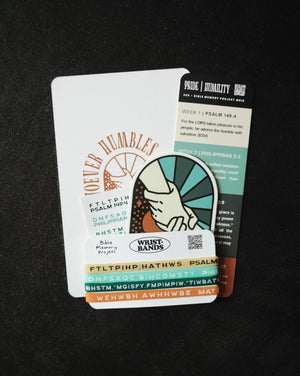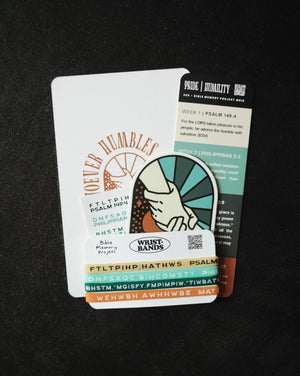 On Sale
"PRIDE & HUMILITY" Project | Vices and Virtues (June 2023)
VERSES: PSALM 149:4, PHILIPPIANS 2:3, 2 CORINTHIANS 12:9, MATTHEW 23:12
(FULL PACK -  4 Bracelets, 1 Bookmark, 2 Stickers, and 1 Postcard!)

SIZING:
 - Model's are wearing MEDIUM.
 - Medium: Approx. Circumference-7" 
 - Large: Approx. Circumference-8"
ABOUT THE PROJECT:
The perfect tool to help you memorize and meditate on God's word!
Each month we focus on four verses based on a theme in scripture (love, joy, peace, patience, etc.)
- The bookmark has each weekly verse fully written out with designs on the back. Every verse is color-coded with the corresponding wristband to help you get started! (our favorite spot for the postcard is on the fridge--remember to consume that spiritual food;))
-A 4x6 print with our favorite design from the month!
- The 4 wristbands are inscribed with the first letter of each word from the memory verse (one for each week). These letters will help by prompting you to complete the whole word in your mind. Soon you'll be remembering the whole verse! Having it in front of you all week will be a constant reminder to practice. People may even ask what the letters mean—what a great way to start a conversation and share the Gospel!
- A sticker will have the first letters of the words from all four verses, just like the bracelets. These are great to put wherever it'll remind you to memorize it most! Our favorite is inside your bible or journal, you can fill up the pages as the months go on. A super helpful way to go back and practice past verses! (We also include a vinyl sticker with our favorite design from the month.)